Congratulations on having just downloaded your file on Etsy shop « Un joyeux petit bazar » : I hope that it will bring you full satisfaction! For optimum use of this file, I invite you to discover my printing and assembly instructions.
You can choose several options to print your files: On your personal printer, on a professional printer near you or through an online printer.  Whatever the printing mode, the following tips will allow you to optimize the quality of your documents.
---
USE GOOD QUALITY PAPER
Use good quality paper for double-sided printing and for printing illustrated elements (cover, bookmarks, dividers …) to get a better result. For double-sided printing, it is better to use paper that weighs about 100g/m2. It will be more suitable than a thinner paper.
---
PRINT IN «ACTUAL SIZE»
For all sizes, make sure that the size of the paper is at 100%. You will need to choose the file in the correct size and select the page setting in the correct format, or check the box → «  Select the source according to PDF format ».
---
DIFFERENT SIZES
You can find several formats of inserts on my shop : A4, Letter, A5, Half letter, Personal, A6… A4 and Letter sizes are basic sizes and are supported by classic printers. For other sizes, you can use different methods for printing your pages, depending on the settings of your printer. Discover them here:
• Print in A5 or half-letter size
• Print in A6 or Personal size
---
DOUBLE SIDED PRINTING
The PDF files are formatted for double sided printing. Whether or not your printer has this feature, I offer various instructions for printing your double-sided inserts, here :
• Double-sided printing
---
BINDER FOR PRINTABLE INSERTS
There are many ways to connect your inserts: ring binders and files, booklet printing, binding rings … I suggest some ways, including diy ways to prepare and bind your inserts :
• Shaping and binding printed inserts
---
PRINT IN COLOR OR BLACK & WHITE
Want to change your planner style? If the files for which you have opted are in color, feel free to test the printing in black and white. For this, check the box → «  Print in Grayscale (black and white) » in your print settings.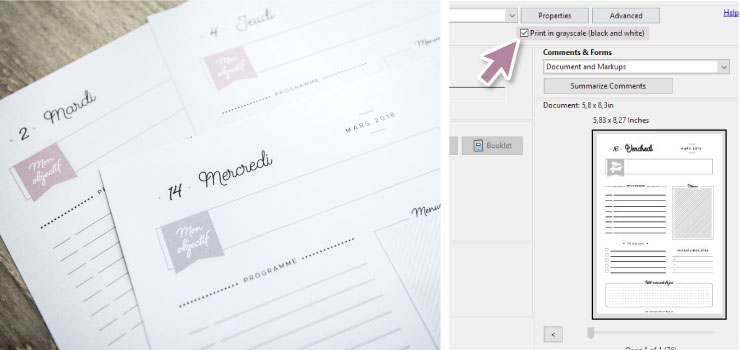 ---
All print tips and tricks on : How to print and use my files ?
Tous mes conseils et astuces d'impression sont disponibles en version française.